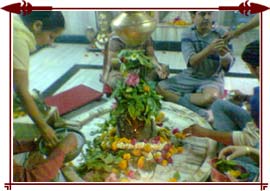 Maha Shivratri Festival is celebrated in honor of Lord Shiva and it is believed that Lord Shiva got married to Parvati on this day. Mahashivaratri is celebrated on the 13th (or 14th) day of the dark half of Hindu Month of Phalgun (February-March). As the name "Shivratri" means "the night of Shiva", this festival is celebrated generally at night. Lord Shiva is one of three gods of the Hindu Trinity. While the other gods Lord Brahma and Lord Vishnu are the creator and preserver of the world, respectively, Lord Shiva, also known as Mahesh, is the destroyer. Like all other places in India, Mahashivaratri celebrations are undertaken with much devotion in New Delhi as well.
According to legends the Mahashivaratri festival marks the night when Lord Shiva danced the "Tandav" (his destructive dance). As per the Vedas, Lord Shiva manifested himself as "Lingam" to tide over the invisible and formless time and to make mankind aware of its eternity. The day when Shiva manifested himself in the form of "Lingam" was the fourth day of the dark night in the month of the Hindu Month Of Magha. This is why, it is said that Shivratri will be celebrated forever and ever. During the festival of Maha Shiva Ratri, devotees in Delhi observe a strict fast, like all other places.
The fast is broken only the next morning, after the nightlong worship of Lord Shiva. Throughout the night, the Shivalinga is washed every three hours with milk, curd, honey, rose water, etc. After that, Bael leaves are also offered, as it is believed that Goddess Lakshmi resides in them. While washing the Lingam, devotees chant the mantra "Om Namah Shivaya". It is said that a person who chants the name of Shiva or his mantra during Shivratri with proper devotion is freed from all sins. He gets free from the cycle of birth and death and reaches the abode of Shiva and lives happily there.