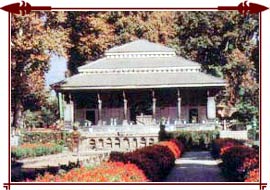 Shalimar Garden is situated to the west of Delhi-Karnal road, at a distance of approximately 10 km from the capital city. The garden served as the venue of the crowning ceremony of the Mughal emperor Aurangzeb. Originally known as the Aizzabad Bagh, Shalimar Garden once consisted of a magnificent palace known as the Shish-Mahal, which stood at its center. However, now, the palace is mostly in ruins, left only with some patches of painting.
A number of other buildings, now not left, also existed inside the garden at one point of time. It is believed that the Shalimar Garden was constructed by Mughal emperor Shah Jahan and named after his mistress Aizz-un-Nisa Begam. It has also been said that this garden served as the summer retreat of Sir David Ochterlony, the British Resident Commissioner of Delhi. The garden was also used by Emperor Aurangzeb as his country house.
Shalimar Garden is one of the significant Moghul gardens of the capital city. Some time in the past, it served as the first-night staging post for the Mughals on their way to Kashmir and Lahore. The best time to visit the garden, situated near northern ridge behind Delhi University, is the spring season, when the greenery is at its peak. Even though it is now mostly composed of the ruins of the olden times, it is still frequently visited by residents as well as tourists.