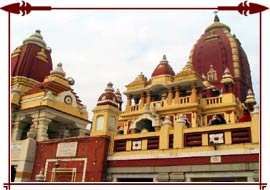 Lakshmi Narayan Mandir is situated to the west of Connaught Place in Delhi. Constructed by Raja Baldev Das in the year 1938, it is dedicated to Lord Vishnu and Goddess Lakshmi. Also known by the name of Birla Mandir of New Delhi, this temple has quite an interesting history attached to it. Built over a period of 6 years, the temple was inaugurated by Mahatma Gandhi. But, he kept a condition that he will inaugurate the Delhi Laxmi Narain Temple only if the people from all castes, especially untouchables, would be able to gain entry inside it. The temple constitutes of one of the major draws of the city and is visited by numerous devotees and international tourists every year.
Lakshmi Narayan Mandir is built magnificently, although with a modern touch. Adorning the interiors of the temples are beautiful carvings depicting the scenes from mythology. Numerous Hindu symbols and quotes from the Gita and the Upanishads ornament the temple walls. The highest Shikara (tower) in the temple soars to an altitude of 165 ft, while the ancillary one is about 116 ft. Facing east and standing on an elevated platform, Birla Mandir of Delhi also enshrines the holy Vedas. The main shrine is dedicated to Lord Narayan and Goddess Lakshmi, while the smaller ones are of Lord Shiva, Lord Ganesha and Lord Hanuman and Goddess Durga.
To the north of the New Delhi Laxmi Narain Temple is the Geeta Bhawan, devoted to Lord Krishna. There is also a Buddha temple in this temple complex, adorned with murals describing his life and work. All the statues in the temple are made up of marble and were brought from Jaipur. Miniature rock temples, which dot the temple, hold a special attraction for the children. The splendor of the temple is enhanced by an artificial landscape in the back, with mountains and cascading waterfalls. The festival of Janmashtami, the birth anniversary of Lord Krishna, lends an enhanced significance to the temple.