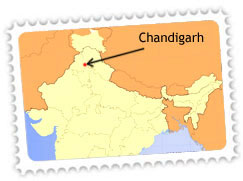 Chandigarh is located in the north of India, at the foothills of the Shivalik ranges, which form a part of the fragile Himalayan ecosystem. Perched at an altitude of 321 meters above the sea level, it falls within 30°44'14N latitude and 76°47'14E longitude. Covering a total area of 114 sq km, the city stands is surrounded by three states i.e. Punjab, Haryana and Himachal Pradesh. Chandigarh is also bounded by the districts of Mohali, Patiala and Ropar in Punjab and Panchkula and Ambala in Haryana.
Chandigarh, the only Union Territory in India which is the capital of two states - Punjab and Haryana, falls under the Indo-Gangetic Plain, a few miles south of the Shivalik hills and between two seasonal hill torrents, the Sukhna Choe and the Patiali Rao. The entire area of the city is a flat, fertile tract of alluvial soil. There is hardly any forest in the union territory, except for some small tracts of woods here and there. It has Khandi (Bhabhar) in the north east and Sirowal (Tarai) and alluvial plains in the remaining part.
The subsurface formation is filled with beds of boulders, pebbles, gravel, sand, silt, and clays. The entire area of Chandigarh is drained by two seasonal rivulets - Sukhna Choe in the east and Patiala-Ki-Rao Choe in the West. Other streams passing through the central area are N-Choe and Choe Nala. Chandigarh district, at present, comprises of one Tehsil and an equal number of community development blocks. It has 5 towns and 25 villages within its jurisdiction.