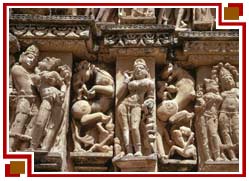 Located in the forested plains of Madhya Pradesh, Khajuraho is a small village, renowned for its vast spectacle of unparalleled temple architecture. The name 'Khajuraho' is actually derived from the Hindi word 'Khajur', meaning 'date palm', which is abundant in the place. What earn Khajuraho its popularity are the exemplary adornments that are carved in the facades and interiors of the various temples of the place. These are legacies of the Chandela rulers, who ruled Central India from 10th to 12th century. Out of 85 temples that once majestically rose on the land, only 22 temples have survived the attrition of time.
The edifices of Khajuraho uphold the artistic magnificence of India even today. Its 22 staggering shrines are scattered over an area of 8 sq miles (21 sq km) and are stylized according to the conventional standards of the North Indian 'Shikara' style and the 'Panchatantra' plan or layout. In fact, in architectural magnanimousness and splendor, these temple masterpieces can be equated to some of the greatest cathedrals of Medieval Europe. Besides, the inventive and bold architectural monuments of Khajuraho have also earned it the reputation of a World Heritage Site by UNESCO.
The temples of Khajuraho are commemorated to a pantheon of Gods and Goddesses of different sects. They are also segregated into groups based on their specific geographical locations. Two distinctive groups are the 'Eastern Group of Temples' and the 'Western Group of Temples'. Most of them are built of pale yellow, buff or pink sandstone. Atypical of a temple town, Khajuraho is not only about worshipping Gods or dipping in sanctimonious waters. In fact, what makes the Khajuraho stand out is the eroticism and celebration of carnal love that have been meticulously etched in the walls of its temples.
These medieval artworks that conjoin 'God Worship' and 'Human Life' are examples of phenomenal imagination and execution. Most of the elaborately carved figures display the different aspects of life and some of them are also steeped with various symbols of sexuality. Others pay tribute to womanhood and exhibit the myriad aspects of a woman's life, from innocent play to carnal postures. The creative outbursts of the place, accompanied by the various erotic depictions, no doubt lure tourists from all across the globe. From connoisseurs of art to a lay man, these spectacles awe-inspire everyone.