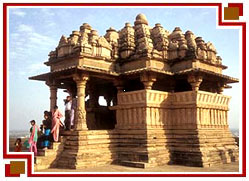 Madhya Pradesh, located in the heart of India, has lot of tourist destinations to boast pf. The formation of state was not based on any theoretical understanding or language; rather it is a geographically identifiable state. Madhya Pradesh is full of naturally beautiful sites and it also has many historical sites, including Bhimbetka Caves, Sanchi Stupa, Bharahut Stupa, Forts of Gwalior, Indore and Mandu. The state offers the visitors a number of tourist spots. Rich tribal presence in state's population is another attraction for tourists.
Historically, Gupta emperors ruled a significant part of Madhya Pradesh in early Christian centuries. Ujjaini, Mahismati, and Vidisha had trade links with ancient cities of Kausambi, Vaishali, and Pataliputra. Later on a significant portion of Madhya Pradesh was under the rule of Moguls. After Independence Madhya Pradesh was given a status of a separate state, and today Madhya Pradesh is a peaceful place developing steadily and smoothly.
Geographical location of the state of Madhya Pradesh is such that it is called 'heart of India'. Gwalior, Ujjain, Indore, Jabalpur, and capital city of Bhopal are some major cities of the state. Ujjain is famous for Mahakaleswar Temple and is one the places where Mahakumbh Mela is held every twelve year. It is considered one of the most sacred cities in India, with Bhairav Mandir being another major attraction. In this section, we will provide you with a number of tour packages covering the state.