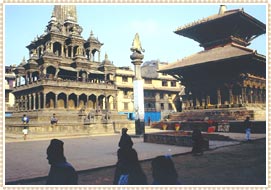 The Patan museum is a one-stop destination for knowing about traditional artifacts and crafts in Nepal. This museum is located at the famous Durbar Square in Patan. The palace at the square has gold works on doors and windows and looks magnificent in the evening. The palace itself dates back to 1735 A.D and acts as monastery at times. The old palace has been restored and opened as a museum in the year 1997. Since then, this place has never looked back.
The museum's exhibits cover a long span of Nepal's cultural history and some rare objects are among its treasures. They belong both to Buddhist and Hindu traditions. Most of the exhibits have been cast in bronzes and have Gilt Copper repose work, for which Patan is famous.
The museum has more than 900 different exhibits on display. The majority of exhibits are sculptures of Hindu and Buddhist deities that were crafted in the Patan area itself. Most of these sculptures belong to the Mallas era. Others originated in India, Tibet and the western Himalayas. The ones originated from India have Licchhavis connection. They are accompanied by written commentary by Mary Slusser that attempts to explain their spiritual and artistic significance. It will take more than a day to even give a quick glance to these items. Prior permission is required for research activities.