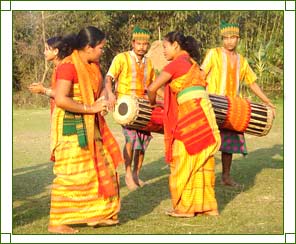 The traditional attire of the Assamese people is Dhoti-Kurta for men and Mekhla- Chadar for the womenfolk. Mekhla-Chadar or the traditional sari is an ensemble of two or three pieces, one of which is worn as the petticoat and the other as the Ďanchalí sari. Besides this, different tribes of Assam have their own unique pattern of dressing, like the Rigu-Rijamphai for a Dimasa woman and the Chin-Fa Nangwait pattern for a Thai-Phake woman.
With changing times and conditions and due to the confluence of different cultures, a more modern outlook can be seen in the dressing sense of Assamese people today. Women can nowadays be seen comfortably adorning salwar-kameez and even jeans and t-shirts, especially in the urban areas. Whenever you plan to visit the state, stick to conventional clothes in the rural areas. As to the rural areas, you can wear jeans, t-shirts, skirts, capris, and the like. However, do make sure that the clothes are not too revealing.
While deciding how to dress up in Assam, keep in mind the season prevalent in the state as well. Summers usually tend to be hot and humid, with the mercury rising to about 30- 35 degree Celsius. So, light cotton clothes will be the best option in this season. Also ensure that you apply ample of sunscreen, to avoid getting a tan. Umbrellas and raincoats are also a must-have, as summers are sometimes overlapped by heavy showers. Winters are mild and light woolen clothes can be used. A wide variety of woolen clothes can be purchased from the local shops at very low prices and thus, a heavy travel bag can be avoided.