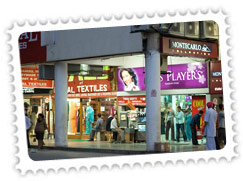 Chandigarh is a well-developed city, with lots of shopping options. The city offers a number of traditional as well as modern items, which one would love to carry back home. Being a modern and well- planned city, it has excellently managed shopping areas. These shopping complexes have perfectly lined up arcades, well managed and amply embarked parking lots and well-mannered shoppers in general. Chandigarh has a wide variety of shops, which include local as well foreign brands. There are main market centers catering to the needs of both the elite and average class people.
Though Chandigarh has a number of handicraft emporia, there is no traditional item specific to Chandigarh. In all the shopping centers in the city, you get a collection of handicraft items gathered from various states of India. Phulkari works, jootis, parandis, durries, jewelries, toys, colorful dupattas, etc are some of the popular shopping items you should look out, while shopping in Chandigarh. With luxuriant shopping markets, swish arcades, posh crowd and fountains, shopping in Chandigarh is truly an enriching experience for one and all.
Sector 17
The main shopping center in Chandigarh is located at Sector 17. It has the perfect blend of cuboids and open spaces. Apart from innumerable shops, government emporiums, coffee shops and eateries, the market is full of fountains, sculptures and groves of trees. You can virtually find anything and everything over here, right from footwear to traditional Indian clothing. By any chance, if you get tired of roaming around, just go to one of the many restaurants in the market and have a quite bit.
Other Shopping Centers
Sector-35:
Restaurants and hotels
Sector-22:
Jewelry shops and Indian Snack shops, apart from a huge flea market
Sector 14, 17, 19 and 22:
Book shops
Sector 7 and 34:
Furniture shops
Sector 17, 22 and 9:
Garments and shoes shops
Sector 28 and 21:
Automobile center
Sector 17 and 22:
Electronic goods shops
Sector 7, 18 and 22:
Hardware items shops