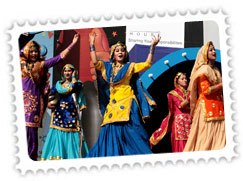 Chandigarh is one of most well-planned cities in India, which was designed by the renowned architect, Le Corbusier. It is a land with affluent past and houses people from different races and classes, which exist in perfect harmony with each other. The rich culture of the city stands as a testimonial of its multi-ethnic population. In fact, the diversity in the land only seeks to add to its profuse cultural heritage. In case you want to explore more about the culture of Chandigarh, just go through the information provided in the lines below
Chandigarh Festivals
Chandigarh is a land of fairs and festivals. The people of this city observe all the festivals with proper rituals and traditions. The main festivals observed by the people in Chandigarh are Baisakhi, Gurpurab, Holla Mohalla, Lohri, Tika, Karva Chauth, Raksha Bandhan, Dusshera and Diwali. All of them are celebrated with equal merriment and enthusiasm.
Chandigarh Cuisine
You can relish a wide variety of lip smacking cuisine, when you are touring Chandigarh. The traditional cuisine of the place consists of typical Punjabi food, which is very spicy. The people in Chandigarh make use of generous amounts of oil and ghee, to increase the taste and aroma of their dishes. They are very fond of milk and milk products and have a weakness for desserts.
Chandigarh History
Chandigarh, named after Goddess Chadi Mandir in the city, came into existence after the partition and independence of India, in the year 1947. It was initially intended to serve as the capital of Punjab. However, later on, the city became the capital of Haryana as well. However, its administration is still under the Government of India, since it has been declared as a union territory.
People of Chandigarh
People in Chandigarh are very warm and friendly. You can find diversity in the castes and culture of people living in this part of India. While the majority of people are Hindus and Sikhs, you can also find a considerable population of Jains, Muslims, Christians, etc here. Until sometime back, people in the city led a leisurely lifestyle. However, with time, they have also started getting a taste of the fast paced life.
Religion
Chandigarh is a place where a number of religions co-exist, with perfect harmony. Sikhism and Hinduism are the major religions followed in the city. Sikhism, founded by Guru Nanak, preaches the faith of "Waheguru", meaning the Universal God. The most common Hindu castes prevalent in the city are Khatri (Kshatriya in Hindi), Brahman, Baniya and Rajput. Other religions, like Islam, Christianity, Jainism and Buddhism, also flourish in the city.
Folk Dances
Chandigarh has a rich tradition of folk dances, borrowed from the parent states of Punjab and Haryana. The people of the city are very lively and celebrate all the occasions to the fullest, with the folk dances accompanying each of them almost always. Bhangra, Giddha, Jhumar, Luddi, Julli, Dhamal, Sammi, Jaago, Teeyan, Dankara, Kikili and Gatka are some of the popular folk dances of the city.