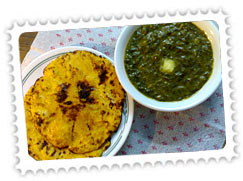 A visit to Chandigarh is incomplete without tasting its mouth-watering and lip-smacking delicacies. The people of the city are all-time food lovers, who prefer exotic preparations with lots of spices. As in any other place of Punjab, the traditional food of Chandigarh is spicy and makes use of oil and ghee to a considerably higher extent. There are no intricate marinades or exotic sauces, but an exuberant use of spices with a liberal addition of oil or ghee. The people prefer wheat items to rice. Among the different wheat items, the most popular ones are Makkee ki Roti (chapatti made of corn) and stuffed parathas.
Milk and milk products are commonly consumed by the people of Chandigarh. In fact, curd, buttermilk, and lassi are important beverages that accompany a meal. The people here use ginger-garlic paste as a common spice and add lots of onion and tomatoes to the meals as well. They also use the spices included in 'garam masalas', like cardamom, cinnamon, mace and bay leaf, regularly in their food preparation. Besides they usually garnish their food with finely cut coriander leaves and juliennes of ginger. Let us now explore the most popular dishes that form a part of Chandigarh cuisine.
Popular Deliccacies
Some popular delicacies of the city are listed as below:
Vegetarian Dishes
Sarson ka Saag (curry of mustard leaves), Dal Makhani/ Dal Handi (curry of pulses), Choley (generally eaten with Naan), Punj Ratani Dal (a mixture of 5 lentils), Kadhai Paneer, Shahi Paneer, and Sheer Korma
Non-vegetarian Dishes
Tandoori Chicken, Butter Chicken, Bhuna Ghosht (Dish made of lamb), Kebab, Amritsari Fish, Tandoori Fish, Fish Tikka, Chicken Biriyani, Lamb Biriyani, Keema Naans, Reshmi Tikka, Malai Tikka, and Pork Pickle
Bread & Flour Preparations
There are also a variety of bread and flour preparations consumed in Chandigarh. Some of them are Naan, Tandoori Roti, Kulcha, Lachha Paratha, Phulka or Chapatti, Aloo Paratha, Mooli Paratha, Poori, and Bhatoora
Sweet Dishes
Several sweet items are made by the people of Chandigarh, to titillate the taste buds. The most popular and distinctive among them is Roh Di Kheer, prepared by cooking rice in sugarcane juice. Some other popular desserts of the area are baalushahi, jalebi and malpua. Don't forget to taste all of them while touring Chandigarh.