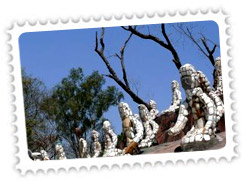 A fabulous city located at the foothills of Shivalik Hills, Chandigarh serves as an important tourist attraction of India. It is the capital city of the states of Punjab and Haryana and city serves as home to a number of attractive parks, magnificent temples and mesmerizing museums. Since the city is administered by the Government of India, it has been declared as a union territory. Chandigarh is divided into 47 sectors, all of which are well connected with each other, through a wide network of roads. Each sector is characterized by swanky shopping areas and busy markets. Apart from this, the city boasts of having a number of tourist spots and a rich, vibrant history.\
History & Origin Of Chandigarh
Chandigarh boasts of having a pre-historic past. In the ancient times, the gently sloping plain, on which the present-day Chandigarh is located, was a wide lake ringed by a marshland. The area was home to Harappans, about 8000 years ago. Following the partition of India and Pakistan, in 1947, the state of Punjab was also split into two different parts, one belonging to India and Pakistan each. Initially, it was thought that certain places would be added to the existing place. However, due to the infeasibility of the plan, a brand new capital city was formed.
Following the decision to make a brand new capital city for Punjab in India, the Government of India planned to make use of an area spread over 114.59 sq.km, at the Shivalik hills, in the Ropar district of Punjab. This gave rise to Chandigarh as the capital city of Punjab. The then Prime Minister of India, Jawaharlal Nehru, described Chandigarh as "unfettered by the traditions of the past, a symbol of nation's faith in future". The master plan of the city was developed by American architect planner Albert Mayer and a Polish born architect Mathew Nowicki.
After Nowicki's death, Swiss born French architect and planner - Le Corbusier assumed the task of creating the layout and design of the buildings of Chandigarh. In March 1948, the Government of Punjab approved the utilization of 114.59 sq. km of land at the foot of Shivalik hills in Ropar district as the site for the new capital of Punjab - Chandigarh. The city was located on the border of Punjab and Haryana. In 1966, Chandigarh was declared as the capital for Haryana as well. In the present time, the city continues to serve as the capital of both Punjab and Haryana.