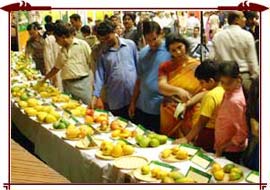 The International Mango Festival of Delhi is organized in the month of July. Held at the Talkatora stadium, it is one of the most awaited fairs of the capital city. This is because most of the other fairs appeal to our intellect or aesthetics, while the Delhi International Mango Festival interests our taste buds. This festival also marks the advent of mangoes and presents one with as many as almost 500 varieties of the king of fruits. So, you can imagine yourself with sticky fingers, relishing one of the tastiest and most delicious fruits.
Mangoes from different states of the country, like Bihar, Uttar Pradesh, Himachal Pradesh, Punjab and Haryana, can be seen sharing the limelight at the International Mango Festival. A number of competitions are also held at the festival between the participating mango growers. Other attractions of the Mango Festival of Delhi include the cultural programs that make it a lively event. Here, you can also buy a mango tree perfect for your own garden and even learn how to grow healthy mango trees in your garden.
The mango varieties displayed at the International Mango Festival comprise of the traditional categories as well as the new hybrid discoveries of the 'King of Fruits'. One can taste different flavors of mango, with different preparations and savor the experience throughout the year. The extravaganza lasts for a period of two days at the venue and for the entire year, in the minds of its visitors. Mango folk song performances, mango eating competitions and children's shows only add to the enjoyment of the visitors.
Popular Varieties of Mangoes Showcased at the Festival
Alphonso, Mallika, Amrapali, Himsagar, Malda, Balia, Chorasya, Dhaman, Dhoon, Fazia, Gelchia, Nigarin Kheria, Ruchika and Shamasi