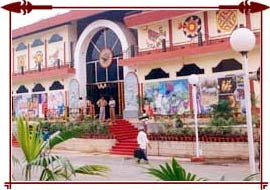 India International Trade Fair, or the IITF, is an annual fair that takes place at the grounds of Pragati Maidan in Delhi. Organized by the India Trade Promotion Organization (ITPO), it starts on the 14th of November every year. India International Trade Fair was held for the first time in Delhi in the year 1980 and since then, it is an annual event much awaited by people from all over the country. The fair provides a kind of platform to the manufacturers, traders, exporters and importers of the country to showcase their products.
In the IITF, the government of each and every state sets up a huge stall or pavilion. The stall of a particular stall has the traditional look of that state and has one theme that it follows throughout. For Example, the stall of Punjab will offer you all the specialties of Punjab like Punjabi cuisine, Punjabi clothes, Punjabi footwear, and so on. This fair constitutes of one of the major tourist attractions of the capital city. People from all over the city as well as the country flock to this fair where they get to buy the best products at the minimum possible prices.
The biggest and the most popular fair of Delhi, India International Trade Fair also has stalls set up by the different countries of the world. The initial reason for organizing the trade fair was to promote the products of India amongst foreign buyers and vice-versa. However, today, people from all over the country participate in this fair in huge numbers and buy goods in large quantities. The products available at the India International Trade Fair include electronics, electrical equipments, commodities, textile, mechanical parts, crockery, etc.
If you visit the fair during its end days, there are chances that you will end up with heavy discounts. However, make sure that you do not wait to buy your favorite item till the end of the fair. This is because some pavilions, like China and Japan, get out of stock much before the fair ends. Handicraft items of almost all the Indian states are available in the fair and are definitely worth buying. The reasonable price and authenticity of these handicrafts make them perfect for mementoes and souvenirs. Don't forget to taste the tasty cuisine at the pavilions!