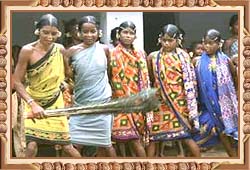 One of then coastal states of India, Orissa is full of natural beauty and charm. Its pristine beaches, lush forests, exotic wildlife and magnificent monuments draw tourists from far and wide. Even the tribal people of Orissa, constituting of more than 62 tribes, have added to its attraction. Of these, the more significant ones include Saora (or Sabar) tribe, which finds a mention in the Hindu epic of Mahabharata also. The tribal communities of the state constitute about 23 percent of its total population.
They are found inhabiting mainly the high land territories. Though clubbed together, these tribal communities can be easily distinguished on the basis of different ethnic traits, culture, customs as well as dominant languages. The most primitive tribes of Orissa comprise of the Kondhas, Bondas, Gadabas and Koyas. Of these, Kondhas constitute of the majority of the tribal population. They have the highest concentration in the blocks of Rayagada, Kashipur, Kalyansinghpur, Bissamcuttack and Muniguda.
The Souras come second, as far as the proportion of their population is concerned. People belonging to the Soura tribe can be easily distinguished from the others, as they wear a loincloth hanging from behind. They inhabit blocks of Gunupur, Padmapur and Gudari, with the highest concentration found in the Puttasingi area. Souras living in Rejingtal, Sagada and Puttasingi still retain their old tribal customs. The other tribal communities, though negligible in number, also contribute to the exotic intermingling culture of Orissa.