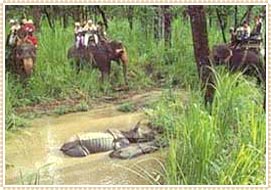 Rara National Park is located in northwest Nepal, about 500 Kilometers from Kathmandu. Most of the park including Lake Rara lies in Mugu district, with a small area in Jumla district too. Rara National Park is the smallest park in Nepal (106 sq. km) but ironically includes the biggest lake in Nepal called Rara Lake (10.8 sq. km) at an elevation of 2990 m. The lake is oval shaped and has a maximum length of 5 km and a width of 3 km. The idea of the park was conceived way back in the year in 1967 but was much delayed. The elevation of the park ranges from 1800 meters at its lowest point to 4048 meters. The river valley that cuts through a ridge forms the natural boundary to the park.
Typical of mountains, the flora of the park comprises mainly coniferous trees. Somewhat similar to the Sagarmatha National Park, the area around the lake is dominated by Blue Pine up to 3200 meters. Some of the other plants that are common in Rara National Park include Rhododendrons, Black Juniper, Himalayan Spruce, Oak and Himalayan Cypress. Above this elevation a mixed Coniferous forest of Pine, Spruce and Fir replaces the vegetation. At about 3350 meters they give way to Fir, Oak and Birch forest.
As far as the fauna of Rara National Park is concerned, it serves as an ideal habitat for Musk deer. They can be found in abundance in every part of the National Park. Some of the other animals that are commonly found in Rara National Park include Himalayan Black Bear, Leopard, Musk Deer, Goral, Jackal, Himalayan Tar, Yellow Throated Marten, Wild Dog, Wild Boar, Languor, Rhesus Macaque and Otter. Among the birds, the most common species that are found in the Rara National Park are Gallinaceous Birds and Migrant Waterfowls. Coots can be found plentiful in the lake, year round. Some of the other species that have a sizeable population in the Rara National Park include Great-crested and Black-necked Grebes, Red-crested pilchards, Mallard, Common Teal, Merganser, Gulls, Snow Cock and Partridges.