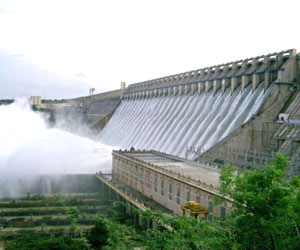 Pathankot is one of the important tourist places of Punjab. It is located in the district of Gurdaspur, at the foot of hills of Kangra and Dalhousie, with the river Chakki flowing close by and near the head of Bari Daob Canal. It is the fifth largest city in Punjab, in terms of population. It is often used as a resting stop by the travelers visiting the mountains of Jammu and Kashmir, Dalhousie, Chamba and Kangra. The city is also the largest military base in the whole of Asia.
Pathankot was a part of the Nurpur princely state, ruled by the Pathania Rajputs, prior to 1849 AD. Ain-i-Akbari described the town as headquarter of the Paragans. A theory suggests that the town was a settlement of Pathans in the medieval times and hence the name, Pathankot. Today, it is used as a gateway to the hill stations of Dalhousie, Dharamshala, Mcleodganj, Kangra Valley, Jwalaji and Chintpurni.
Pathankot serves as the meeting point for the three northern states - Punjab, Himachal Pradesh and Jammu Kashmir. It is the last city in Punjab on the National Highway, connecting Jammu & Kashmir with the rest of India. This entrusts a strategic importance to the city, due to which it is often called the 'Cock Neck City'. It has been the famous center of Loi and Shawl weaving industry and lies at a point where the trade routes from the hills of Chamba, Nurpur and Kangra unite and enter the plains.
Pathankot is a beautiful tourist destination, which has lots to offer to the visitors. The major tourist attractions of the place are Shahpur Kandi Fort, Hydraulic Reasearch Station, Mukteshwar Temple, Ranjit Sagar Dam, Kathgarh Temple, Nagni Temple, Nurpur Fort. Some of them are not exactly in Pathankot, but can be easily be traveled from the city, as a short excursion.
How to Reach Pathankot
Pathankot has a well-developed infrastructure and is well connected by air, road and rail. With this article, explore complete information on how to reach Pathankot.
Tourist Attractions
Pathankot is one of the must-visit destinations in Punjab. Apart from being a major military base in India, the city is also known for its picturesque beauty and myriad tourist attractions. Go through the following lines and explore the tourist places in the city, in detail.
Pathankot Weather
Pathankot is a city and municipal committee in the Gurdaspur district of Punjab. It used to be a princely state ruled by the Rajputs before 1849 AD. Presently, the city serves as a conjunction for the northern states of Punjab, Himachal Pradesh and Jammu & Kashmir. It connects J&K with the rest of India, on the national highway.