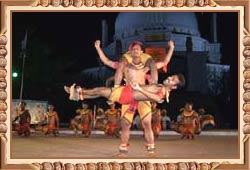 Time:
In the beginning of February
Duration:
2 days
Location:
Dhauli
Significance:
To celebrate the victory of peace over war
Kalinga Mahotsav is one of the most famous festivals of Orissa. It holds great religious significance for people. The aim of this festival is to encourage people to follow the path of peace and calm, rather than fighting amongst themselves. It is organized by Art Vision, in collaboration with Orissa Tourism and Nalco. The Vishwa Shanti Stupa, also called the Peace Pagoda, serves as the venue of the Kalinga Mahotsav. This is the place where Emperor Ashoka is believed to have fought the Kalinga war, before giving up the sword and embracing Buddhism.
It is a two day long annual festive occasion that usually takes place in the first half of February in Dhauli. Kalinga Festival is also known as the National Festival of Martial Dance. Martial art dancers come from all over India come to Orissa to participate in this amazing festival. During its celebrations, you get to see the live performances of distinctive martial dance forms of the country. Popular martial dance forms performed here include Thang Ta of Manipur, Kalaripayattu of Kerala and Chhow and Paika of Orissa.