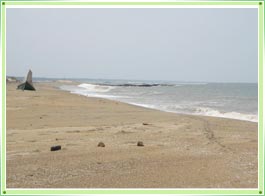 The Beypore Beach in Calicut is a beautiful expanse of vast land and turquoise blue sea. Nature will embrace you in its arms on the calm shore shores of this beach. The endless Arabian Sea laps at your feet as you stand on the soft sands watching the sunset. The Kozhikode Beypore Beach is a commercial center for ship building and has existed here for more than 1000 years. This boatyard is famous for making a distinctive ship vessel known as 'Uru'. The Beypore Beach in Kerala is a must visit if you want to enjoy the calm and tranquil environment as well as take a look at how the ancient business of ship business is thriving even today.
If you seek adventure and want to do something to set the adrenalin rushing, set out in the sea with local fishermen and see how they struggle to make a living. Though simple, they are content and happy with their way of life. A unique thing in this beach is the 2-kilometer long stretch of land that reaches out in the sea. The path is made up of huge stones and rocks and opens out in the Sea. One can always take a walk on this path and feel rejuvenated like never before.
How to reach the Beypore Beach, Kozhikode
By Air
The Calicut Airport at Karipur is located at a distance of around 23 kilometers from Beypore.
By Rail/Train
The railway station at Calicut is around 10 kilometers from the beach. You can hire local transport from around the station to reach the Beypore beach.
By Road
Calicut is well connected by roads and Beypore is hardly 11 kilometers from the city center, which makes it easily accessible by roads.