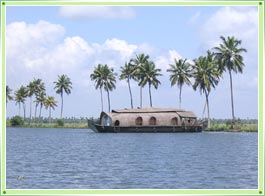 Located at a distance of 15 kilometers from Kottayam, lies a small cluster of islands on the famous Vembanad Lake. These cluster of islands on the vast lake make up the Kumarakom backwaters. An enchanting web of streams and tributaries on the Vembanad Lake along with the palm-fringed shores makes the Kumarakom backwater tours an absolute delight. A major tourist attraction, the backwaters of Kumarakom, Kerala are a must visit if you are looking for peace and calm vacation amidst unexplored nature.
Take a boat trip on the meandering backwaters of Kumarakom and watch out for the varied life forms dwelling in every nook and corner. The backwaters are a safe haven for rare migratory birds that come here every year. There is a bird sanctuary also near the backwaters that spreads over an area of 14 acres. The backwaters are a treat for an avid bird watcher as there are a number of birds that add life to the backwaters. One can find egrets, herons, cuckoos, waterfowls, ducks, etc and many more birds over here. The Siberian stork is a regular visitor and come to the backwaters in huge flocks, fascinating and enchanting all visitors.
Kumarakom backwaters are best enjoyed when explored in a houseboat. These houseboats are equipped with all modern facilities that include on boards cooked meal, sun deck, carpeted floors, bedrooms with attached bath and everything else that you can think of. You can also avail the boating and fishing facilities that are provided at the Kumarakom backwaters. An overnight cruise on the calm and quiet backwaters, painted silver by the moon is a divine experience. The blooming flowers and their scent, colorful birds and swaying coconut trees all make your visit to the Kumarakom backwaters an unforgettable experience.