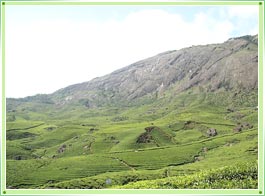 Devikulam hill station is located at a height of 1800 meters above sea level and is around 16 kilometers from Munnar in Kerala. The Devikulam hill station in Munnar, Kerala is famous for its mineral water springs and the beautiful landscape it has offer. Once in Munnar, Devikulam hill station should be one of the most important places to visit in your schedule. Read on further to know more about this scenic place located in the beautiful hills of Munnar.
This lovely hill station located in Munnar is famous for its breath-taking locales and scenic spots. Right in the heart of this landscape is a small lake that has crystal clear water. Take a dip in the cool waters of this lake, which is known as Sita Devi Lake. This lake is a popular scenic spot and rest assured you will feel rejuvenated and fresh as the morning dew once you unwind yourself in the beautiful locales of this hill station. The uneven bends and undulating hills provide adventurous moments as one can go trekking, rock climbing or simply take a long walk along the narrow roads of the hills.
The hill station is famous for its unique flora and fauna. The hill station has a paradise like feel to it and nature blooms in its best form here. Nothing can beat the experience of taking a walk in the early morning mist along the softly gushing waterfalls that cascade from steep heights. All this creates a magical atmosphere to the place and adds to the romantic beauty here. All we can say is come to devikulam to feel the natural beauty yourself. No words can describe the serenity of this wonderful hill station.