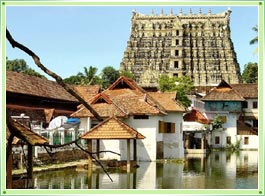 Padmanabhaswamy Temple, Trivandrum is an architectural wonder and a magnificent temple that is sure to amaze you. Situated in the heart of the city, the massive structure has a staggering 100 feet high "Gopuram", the main temple tower. Sri Padmanabhaswamy temple of Kerala is dedicated to Lord Vishnu, one of the Gods of the Hindu trinity of Brahma, Shiva and Vishnu. The massive idol of the deity measures 18 feet in length and is covered with gold and other precious stones.
The idol is viewed through three different doors. The head and torso is visible through the first opening. The midriff and hands are visible through the second door and the feet are visible through the third door. The massive idol is seen resting gracefully on the Serpent Lord, Anantha. The temple is made beautifully with an amalgamation of Hindu and Kerala architecture. The temple is spread over a vast area and is an important worship of Hindus in Kerala. The temple is quite strict and allows entry only to Hindus.
The temple is famous for its Arattu festival, which is till date headed by the royal family of Travancore. The procession is worth seeing as it is a grand spectacle of beautifully decorated elephants and musicians chanting Lord's name. The whole temple is beautifully decorated and the city of Trivandrum comes alive during the temple procession. People from all over come here to take part and cheer during the festival. Grand feasts are prepared in the temple and the food never seems to go out of stock. It is a beautiful temple and should be visited if you happen to travel to Trivandrum.
How to Reach Padmanabhaswamy Temple Trivandrum
By Air
The Trivandrum airport is the nearest airport to this temple.
By Rail
The nearest railway station is the Trivandrum railway station and is easily accessible from the temple.
By Road
Trivandrum is well connected to Kerala by a wide network of roads and this temple can be reached very easily from anywhere in Kerala and Trivandrum.