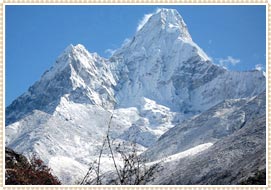 Mount Everest that is called Sagarmatha in Nepali or Chomolungma in Tibetan is the highest peak in the world. Mount Everest is situated at the edge of the Tibetan Plateau on the border between Nepal and Tibet. This plateau is also known as Qing Zang Gaoyuan in Tibetan. It is part of the Great Himalayan Range that stretches along India, Nepal and China.
Nepal is situated in the South-Asian region that is popularly called Indian Sub-Continent. Nepal is an extremely landlocked country surrounded by Indian State of Uttaranchal in North, Uttar Pradesh in Northwest, West and Southwest, Bihar In South, Sikkim and Bhutan in Southeast and Tibet Autonomous Region of China in East and Northeastern side. Where as Tibet is not a country but an autonomous region that falls under China. Its status is same as what Ireland has with England and Diego Garcia with USA.
The exact location coordinates of the Mount Everest is agreed upon as 27°59'17" N or 27 degrees, 59 minutes and 17 seconds North of Equator in case of Latitude and 86°55'31" E or 86 degree, 55 minutes and 31 seconds in case of Longitude.
There are various ways to get there. The most preferred one is to get a direct flight to Kathmandu and move to the base camp from there. If you are in India and want to continue from there, then there are 3-4 inlets to Nepal. The most preffered one is via Raxaul (East Champaran District) in Bihar. Apart from that the ones via Sitamadhi in Bihar and Nepalgunj in Uttar Pradesh are also much traversed ways. From the China side there are quite a few passes, the most notable and the much traversed one is Renjo La that is situated at the height of 5465 meters. Other options are Cho La at 5420 meters and Kongma La at 5535 meters. There is only one entry from Bhutan and that is Lungu La pass.