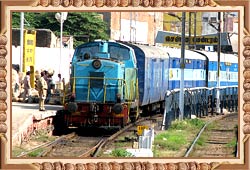 Bhubaneswar, being the capital city of Orissa, is easily accessible. Traveling to the city is totally hassle-free, as it is very well connected with the almost all parts of India, by air, rail or road. Numerous flights as well as trains operate to and from Bhubaneshwar, which help the tourists in reaching there easily. Still, to ensure that your vacations are totally comfortable, we have provided information that will tell you 'how to reach' Bhubaneswar.
By Air
Indian Airlines operate flights on a day-to-day basis to and from Bhubaneswar. Along with that, there are a number of private airlines that connect it with the major cities of India, like Delhi, Chennai, Calcutta, Vishakhapatnam, Varanasi and Nagpur, by air.
By Rail/Train
Bhubaneshwar is very well linked with the rest of India by railways. There are various super fast trains that link the city with other major cities, like New Delhi, Chennai, Mumbai and Hyderabad.
By Road
Bhubaneswar is well connected to almost every part of the country by the national highways. Buses and taxis are easily available from Bhubaneswar for traveling within the state as well as going to the neighboring ones.