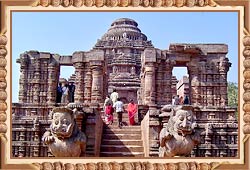 Located at a distance of nearly 65 km from Bhubaneswar, Konark city is famous throughout the world for its magnificent Sun Temple, which is dedicated to Surya, the Sun God. It is one of the three cities that form the Golden Triangle of tourism in Orissa. Konark is a city that is well known for its architectural wonders. Besides the numerous temples and maths, its other major attraction is the Konark Beach, one of the most enchanting beaches of India.
The city of Konark is a vivacious place, surrounded by lush green forests. The life here is full of colors, which is aptly reflected in the exquisite handcrafted items seen in its local markets. The city is gaining more and more popularity as far as the domestic as well as international travel is concerned. Almost everything about Konark is impressive. The serenity of its beach takes you away from the maddening rush of the city and completely rejuvenates your body and soul.
The beauty of white sands bordering the beach is captivating. Shopping in Konark is always fun. There is a plethora of items that you can buy here, like the embellished sculptures depicting various Hindu Gods and Goddesses. During festivals, the city becomes alive with fun-filled activities. The Dance Festival of Konark is very popular and people come here from different parts of the country to attend it. You can travel to the city anytime during the year. However, the best time to visit Konark is between October and March.