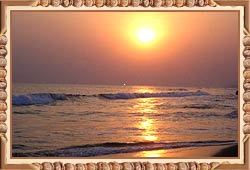 Summer Temperature
Maximum:
42 Deg C
Minimum:
27 Deg C
Winter Temperature
Maximum:
25 Deg C
Minimum:
8 Deg C
Annual Average Rainfall:
152 cm
Best Time to Visit:
October to March
Being very close to the sea, Konark experiences a climate milder than that of most of the cities in Orissa. The summers here are also hot, but the heat is less than other places. The maximum temperature in this season goes as high as 42 deg C, while the minimum temperature hovers somewhere around 27 deg C. The summer season gives way to monsoons, which last from July to September. During this period, Konark experiences heavy rainfall.
Infact, the annual average rainfall in the city is around 152 cm. As far as the weather information of Konark is available, the winter season stretches on from October to February. In this season, the maximum temperature is around 25 deg C, while the minimum temperature may fall to 8 deg C. One can visit the splendid city of Konark during any season. But, the best time to come here comprises of the months of October to March, when the weather is pleasant.