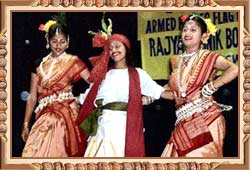 Sambalpur is an illustrious place that is known for the Hirakud dam, the largest dam of not only India, but the whole world. Some of the features that best describe the district are its gorgeous waterfalls, rich cultural heritage, lively people and magnificent monuments. The district of Sambhalpur has derived its name from the Goddess Samleswari, its patron deity. In the earlier times, it was known for the diamond trade.
However, in the present era, the district is gaining popularity due to its amazing textiles. The native language of the city is Sambalpuri. Even though Sambalpur is a very small district, it has no dearth of tourist attractions. Apart from the Hirakud Dam, there is Ushakothi Wildlife Sanctuary, Huma Temple and Cattle Island, all of which have given a boost to tourism. Even from shopping point of view, the district is a favorite amongst the tourists coming to Orissa.
The fine fabrics of the city, the exquisite motifs and designs and the artwork of its tie and dye weavers are applauded the world over. Infact, the textiles of Sambalpur have found a niche in the international market also. The district serves as the connecting link between Orissa and Chhattisgarh and is visited by tourists around the year. It also serves as the perfect gateway to the western part of Orissa. Even the rich culture of the city, reflected in its dance and music, has given a boost to its travel industry.