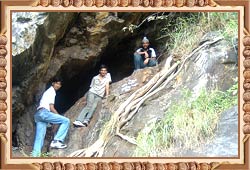 Sambalpur district is known as the gateway to the zone of Orissa. It is known for its rich natural beauty, which is full of flourishing green forests, rich wildlife, towering hills and beautifully cascading waterfalls. The district also boasts of a rich cultural heritage, characterized by its tribal life, folk songs, folk dances and numerous monuments. Apart from its own attractions, Sambhalpur also has a number of tourist places situated nearby. Read on to know more about Sambalpur excursions.
Kandhara
Situated at a distance of nearly 78 km from Sambalpur, Kandhara village falls under the Rairakhol Sub-Division. It is the birthplace of the famous poet Bhima Bhoi, who one of the most influential proponents of Mahima Dharma or Alekha Dharma.
Nrusinghanath Temple
Amidst the captivating Gandhamardan hills, we have the Nrusinghanath Temple. It is located nearly 165 km from the Sambalpur district. The enchanting view of the temple is enough to lure tourists from far and wide.
Hatibari
Lying 24 km to the south of Sambalpur, Hatibari is surrounded by dense forests. Known as the Karma Bhumi of Padmashree Dr Isaac Santra, this place is renowned for the Leper Home started here by Santra. This home represents his genuine love for fellow humans.
Cattle Island
Cattle Island is situated near Kumarbandh village, which is about 90 km from Sambalpur. It is basically a hill that got submerged after the construction of the Hirakud Dam and got converted into a dam. The main attraction of the island is the fact that it is inhabited only by cattle. Since they hardly come in contact with people, the cattle have become wild and are quite bigger in comparison to the normal ones. Most of them are white in color. Villagers living nearby have tried to capture them a number of times, but success has always eluded them.