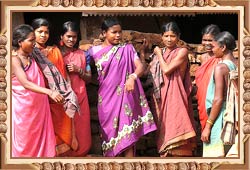 Indian culture is very much different from the western one and the tourist coming here must take precautions so as not to hurt the sentiments of the local people. The same holds true for Orissa also. The state has a unique culture of its own, which is reflected in everything the people do, right from what they wear to the food they eat. Anyone going there must make sure to dress up in the proper manner and conducted himself/herself properly. Traditional clothing in Orissa consists of dhoti and kurta for men and sari for women.
But, with the changing times even the people have changed and this change is reflected in how they dress up. Nowadays, people are getting influenced by the western culture. Apart from salwar kameez, females can be seen wearing jeans, trousers, capris, etc. Men now usually wear trousers and shirt when they go out. Dhoti is worn while relaxing or is reserved for special occasions, like festivals, puja, etc. Apart from the local culture, you should also keep in mind the weather while deciding what to wear in Orissa.
If you are planning to visit the place during summers, then it is advisable that you take along lightweight cotton clothing. During this time, the sun is quite harsh and the temperature soars. So, make sure to carry sunscreen, sunglasses, hats, etc with you. However, if you are planning your Orissa tour during winter time, then it is better to pack some warm garments. Though the winters are hardly freezing-cold in the state, the atmosphere is chilly and we are sure, you don't want to come down with fever or pneumonia on you vacation.