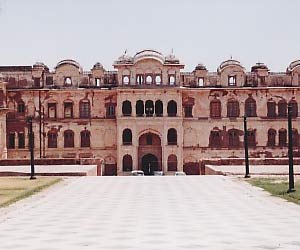 Bathinda is one of the popularly visited tourist centers in Punjab. It has both religious and cultural attractions, which invite tourists from all over the world. The important tourist attractions of the place have been listed below.
Places to See in Bathinda

Damdama Sahib
Damdama Sahib is one of the Five Takhts or Seat of Temporal Authority of Sikhism. It has been built at the site where Guru Gobind Singh, the tenth Sikh Guru, prepared the full version of the Sikh Scriptures, called Sri Guru Granth Sahib, in 1705. Located in village of Talwandi Sabo, 28 km to the southeast of Bathinda, the gurdwara was officially recognized as the Fifth Takht of Sikkhism, on November 18, 1966.
Maiser Khana Mandir
Maiser Khana Mandir is situated 29 km from Bathinda, on Bathinda-Mansa Road. According to a legend, it was here that the jyoti of Mata Jawala appeared to a poor devotee, who could not reach the temple at Jawala Ji. Every year, two melas (fairs) are held here, visited by lakhs of devotes across the globe.
Qila Mubarak
Qila Mubarak is a National Monument of India, located in the heart of Bathinda. It has been existing for the last 1900 years. The bricks of the fort date back to the Kushna period, when Emperor Kanishka ruled over Northern India. Raja Dab, along with the emperor of Kanishka, is believed to have built the fort. It is bigger than its competitors at Lahore, Phillour and Hanumangarh. The fort has been visited by famous Gurus of Sikhism, Guru Gobind Singh Ji, Guru Nanak Dev and Guru Tegh Bahadur. Razia Sultan, the Sultana of Delhi, was imprisoned in this fort in 1240 AD.
Rose Garden
Rose Garden is a 10-acre garden in Bathinda, which is popular for the large varieties of roses that grow here. It is one of the most famous tourist spots in the city.
Zoological Park
Located 6 km from Bathinda, Zoological Park is visited by people of all age groups. It offers an ideal place for picnic.
Bahia Fort
Built in 1930, Bahia Fort is located in front of the main fort. It once served as the official residence of armed forces of Maharja Bhupinder Singh of Patiala State. Now, it has been converted into a four-star hotel.
Lakhi Jungle
Lakhi Jungle is situated 15 km away from Bathinda and is on the way to Muktsar. This forest has an old gurdwara and enjoys the touches of Shri Guru Nanak Dev, who recited one lakh Holy Paths of Shri Japuji Sahib here. Therefore, it is called the Lakhi Jungle. Guru Gobind Singh Ji is also said to have visited the place.
Chetak Park
This is an exquisite garden in Bathinda Cantonment, with wide collection of flowering plants. It is a popular picnic place for people of all ages.