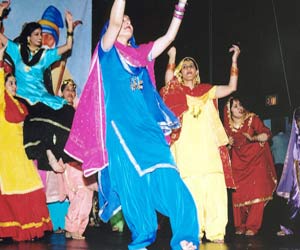 Giddha is a popular folk dance of Punjab, performed by the women of the region. It bears much similarity to the bhangra dance, which is performed by the men in the state. The dancers enact verses called bolis, which is a representation of folk poetry at its best. A wide range of subjects is enacted, ranging from the daily chores to the political affairs. The dancers dance to the tune of dholak (drums), accompanied by their regular distinctive claps. The girls raise their hands to the level of their shoulders and clap in unison. Then, they strike their palms against those of their neighbors.
Mimicry is also an important part of giddha dance. Usually, one girl plays the part of an aging bridegroom and another plays his young bride, or one will play a cantankerous sister-in-law, while another girl will play a humble and doting wife. Since the dance involves so many personal themes, it is actually seen as a creative way of giving expression to one's emotions. The dance may include scenes from the village life, where women are seen spinning cotton, fetching water from the well and grinding. These scenes are accompanied by fitting bolis. No musical instruments are played during Giddha, except "dholak", to add beats.
The dancers are clad in embroidered duppattas and heavy jewelry, which add to the charm of their movements. The three traditional dresses that are worn during the dance are short female-style shirt (choli) with ghagra; lehnga (loose skirt up to ankle-length); or ordinary Punjabi salwar-kameez. The ornaments worn are suggi-phul (worn on head), pazaibs (anklets), haar-hamela (gem-studded golden necklace), baazu band (worn around upper arm) and raani-haar (a long necklace made of solid gold). In India, Giddha is mostly performed in the city of Amritsar, while in Pakistan; it is still popular in Lahore.