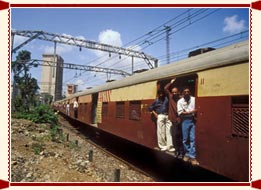 By Air
Moradabad is close to New Delhi, the capital city of India. Delhi Airport is 160 odd Kilometers from Moradabad. Delhi is in turn well connected to rest of India and world through a range of flights operated by various private and public carriers. From Delhi, one can hire a cab and reach Moradabad in less than 3 hours via National Highways No. 24.
By Rail/Train
Moradabad is situated on the one of the busiest lines in India that joins Delhi with Kolkata. Therefore there are hosts of option as far as railways are concerned in Moradabad. The city is well connected to towns like New Delhi, Kolkata, Mumbai, Chennai, Agra and Varanasi. Various Expresses as well as Super fast trains ply to and from Moradabad.
By Road
Moradabad is well connected to the cities like Mathura, Delhi, Chandigarh, Kanpur, Lucknow, Varanasi, Jhansi and Agra etc. Uttar Pradesh State Road Transport Corporation plies several buses to these cities. Various privately run luxury buses are also available.