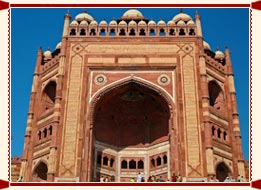 Fatehpur Sikri is actually a historical capital city made out of twin village of Fatehpur and Sikri that are situated 45 odd kilometers from the city of Agra. The city is situated amidst barren ridge. Emperor Akbar established this city, to serve jointly with Agra, as the imperial capital of Mogul empire. The story of this 4 centuries old city is no less interesting than the city itself.
It has been reported through the chronicles of History that Emperor Akbar had no issues and that's why his laments new no bound. Somebody advised him to ask for an audience with the famous Sufi saint, Khwaza Salim Chisti who resided at Sikri village. He walked the distance with the royal entourage. Salim Chisti blessed him with a son who was named Salim in reverence to the saint. The same prince when sat on the throne, re-christened himself to Jahangir Jahandar. Akbar ordered to build the city of Sikri to commemorate the arrival of the prince.
The most interesting monument in the city is the mighty Buland Darwaza that guards the entrance of the Gate. As you enter the gate, Jama Masjid falls to your left. The beautifully carved tomb of Khwaza Salim Chisti is situated in the middle of the big square courtyard. As you take the right gate, Sikri fort falls on your left and so are Panch Mahal and Jodha Bai Palace. Architecture of all these buildings has a subtle blend of Hindu and Islamic architectural designs. Fatehpur Sikri has all these and much more.