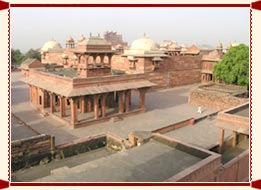 Fatehpur Siri might have been abandoned in less than 15 years from the day it was constructed, it has left many heritages to ponder upon and appreciate. Most of these monuments are living examples of Indo-Islamic architectural blend in India. Panch Mahal is one of them. Panch Mahal is basically a five-storied structure that can easily pass as an architectural marvel. Panch Mahal also signifies the undiluted imprint that Buddhism has left on the Indian psyche. This is proved by the fact that Panch Mahal is built on the Buddhist architectural style.
Built on the pattern of a Buddhist Temple, Panch Mahal was basically a pleasure palace of emperor Akbar. He primarily used it for relaxation and entertainment purpose. The structure has been so designed that each story is pillared and is smaller than the other as you move upwards. While no less than 84 columns support the ground floor, the uppermost domed floor has only 4 columns. The whole structure is very airy and was styled to give respite from the scorching summers of Agra.
Panch Mahal stands close to the Zeenana quarters or Harem and that consolidates the fact that it acted as a pleasure palace. The pillars that originally had Jaalis between them support the whole structure. The women of the royal household and ladies of the harem originally used the pavilion and that is why Jaalis have been used. The pavilion gives a majestic view of the fort that lays on its left.