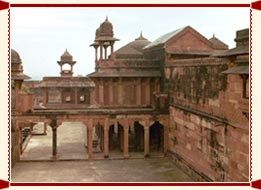 Fatehpur Sikri was commissioned by Emperor Akbar to act as his imperial capital along with the Red Fort of Agra. Fatehpur Sikri Fort was commissioned in the year 1570 and was completed in 5 years. While the Agra fort acted as a military base and garrison, Fatehpur Sikri fort was used for the residence purpose. Therefore it is but natural that the Sikri Fort has cluster of buildings that were used for different purposes as in case of Delhi and Agra's Red Forts. Following are some of the most important buildings of the Fatehpur Sikri Fort Complex.
Private Living Quarter
Private living quarters are situated at the southern end of courtyard. They are architecturally centered on the pool known as Anup Talab. It houses the famous library of Emperor, which was a seat for the philosophical and intellectual discourses. Close by is the Royal Archive called Daftarkhana. This was used to store all the official records of the empire. Above the Daftarkhana lies 'Khwabgah' or royal bedroom. Water channels were reportedly used to cool the whole space.
Miriam Palace
Miriam Palace is actually women's quarter also called Zanana or Harem in Hindustani. Miriam Palace lies east of the Male quarters. A small doorway joins the male quarter with the female one. The palace has been named after one Miriam of the then Goa who was one of the wives of Emperor Akbar. The interiors of the Miriam Palace were richly embellished with gold.
Jodhabai' s Palace
Jodhabai' s Palace is the largest of all the palaces in Fatehpur Sikri. This was named after Jodhabai, Akbar' s favorite wife and mother of his heir Salim. This palace was specially made to house his queens. The Architectural elements of Gujarat, Mandu and Gwalior have been blended with traditional Islamic designs to decorate this palace.
Diwan-e-Aam
Diwan-e-Aam is the first enclosure of the palace from the entrance. Divan-e-Aam is actually a vast courtyard that was used by Emperor Akbar for the daily public audience called 'Jharokha' in Hindustani. It was also used to dispense justice.
Diwan-e-Khas
Diwan-e-Aam gives access to the second enclosure that is called Divan-e-Khas. This is undoubtedly the finest building in the entire Fatehpur Sikri. The hall was used for the private audiences and other court activities. Divan-e-Khas is a magnificent chamber that is dominated by a massive carved pillar. It supports a capital that in turns support a balcony.