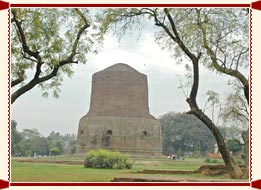 Chaukhandi is another very famous and historically important monument in Sarnath. Chaukhandi is the first monument you will encounter as you enter Sarnath. Chaukhandi Stupa is actually a lofty mound of brickwork. An Octagonal tower surrounds the square edifice of Chaukhandi Stupa. It is believed by majority of historians that Emperor Ashoka originally built this Stupa. Standing on a terraced rectangular plinth, the Stupa is capped by an octagonal Mogul tower. This Mogul tower is said to have been built by Emperor Akbar to commemorate the visit of Humayun at this shrine.
Chaukhandi Stupa has a historical importance as well. It is widely perceived that Chaukhandi Stupa marks the place where Lord Buddha reunited with his five disciples, who had previously deserted him in Bodh Gaya. Therefore it is but natural that the place evokes emotion among the Buddhist pilgrims or otherwise who flock this site. The structure is predominantly made out of bricks and thus, is fragile.
It is sad that Chaukhandi has remained out of the favor of Archeological Survey of India for long. Actually, it has been overshadowed by other famous monuments in Sarnath namely Dhamek Stupa and Ashoka Pillar. Nevertheless lately ASI has started the restoration work on this Stupa that has for long been in depleted condition.