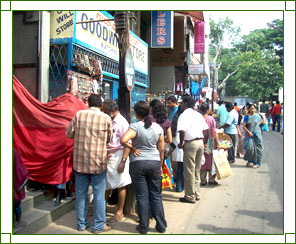 Dibrugarh city is one of the popular tourist destinations in Assam, India. The people who come to visit the city definitely like to take back something, as souvenirs, for themselves as well as their near and dear ones. And it is a surety that the city of Dibrugarh will never disappoint them in this respect. Apart from the indigenous native shops, a number of malls and complexes are present here and some others are still in the process of being constructed. Some of these are the Vishal Megamart, the Leela Mall, Khusi Megamart etc.
Dibrugarh city is famous for its tea. It is, in fact, called the nerve centre of the tea industry in India and even within the city; you will find a number of tea gardens, like the Jalan South Tea Estate. Hence, a visit to the city without getting a sample of the local tea is simply not done. Besides tea, Dibrugarh is also famous for its traditional silk garments, like mekhela chaddar (made of muga or paat).
The locally-made Gamochas, one of the most recognizable cultural symbols of the Assamese people, is a popular item amongst tourists. Such items can be purchased from the innumerous indigenous shops present within the city, like Kalpatoru, Mamta. A unique shopping location present in the city is the 'Bhutiya' market place, offering a wide range of trendy items like clothes, bags and shoes. This is one of the most favorite places for young boys and girls to shop, as the products are reasonably priced.