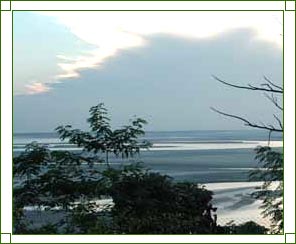 The district of Golaghat, occupying a total area of 3502 sq km, lies at an elevation of about 100 m above the sea level. Like the rest of the state, the district has a sub-tropical humid type of climate, with the relative humidity varying from 93% to 95% during the morning hours and from 53% to 75 % during the afternoons. The climate of the place can be divided into three main seasons - summers, winters and monsoons. Let us explore the three in detail.
Summer & Monsoon
The summer and monsoon seasons in Golaghat are usually hot and humid, starting from the month of March and extending till October. The average annual temperature during the summer season varies from 29 to 36
o
C, with the maximum temperature recorded at 38
o
C during the month of June. Around 60 to 65% of the average precipitation during the entire year is received during south-west monsoons, lasting from June to September. Out of this, the maximum precipitation is seen in the months of June and July, with the total average annual rainfall being 1300 mm. There is a definite pattern of rainfall in the district, which varies from south to north, with the increase in the intensity of the rainfall. Maximum rainfall is recorded in north-eastern part of the district.
Winter
In Golaghat, winter starts from the month of November and the typical characteristics of this season is scanty rainfall and foggy mornings and afternoons. The minimum temperature recorded during this season is 10
o
C, in the month of December, with the average annual temperature being 6
o
C to 14
o
C.