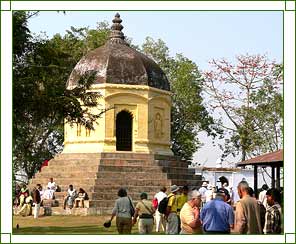 The historic town of Hajo serves as the merging point of the three major religions of the world, namely Hinduism, Islam, and Buddhism. Being an important pilgrimage site for all these three religions, Hajo is frequently visited by travelers and tourists all round the year. Information on some of the main tourist attractions of the place have been given below. Go through it and explore the town in a better way.
Hayagriva Madhava Temple
Around 30 km to west of Guwahati, in the town of Hajo, is situated one of the most sacred pilgrimage spot in Assam - Hayagriva Madhava Temple. Highly revered by the Hindus as well as the Buddhists, the temple enshrines an image of Lord Vishnu, which resembles the image of Lord Jagannath at Puri (Orissa).
Powa Mecca
Standing atop the Garurachal Hill, just adjacent to the Madhava Temple, is the much renowned shrine of the Muslims - Powa Mecca (1/4th Mecca). The most famous Muslim pilgrimage spot in Assam, it noted as the tomb of Pir Giasuddin Auliya, who was the pioneer of Islam in this part of the world.
Kamesware Temple
Kamesware Temple is a sacred area in Hajo, which was constructed by Ahom King Pramatta Singha, in the 18th century. With the passage of time, the original identity of the temple, as a centre of Madana Kam,a worship was lost and it was converted into a Lord Shiva Temple. The shivalingam located in this temple is similar to the calanta idol of Kedar Siva.
Joy Durga Temple
Joy Durga Temple is an important Hindu temple devoted to the worship of Goddess Durga. The temple was constructed in the year 1774 AD, by the then ruling king of Ahom Dynasty, King Lakshminath Singha. There is a ten armed stone image of the Goddess on the temple altar.
Ganesh Temple
Ganesh Temple is an important religious shrine of Hajo and is also called as Deva Bhavana, since it serves as a meeting point of all deities of the area.
Dhoparguri Satra
Dhoparguri Satra is a famous holy spot in the historic town of Hajo and was established by Madhavdeva in the year 1587. It was originally a three-room satra, at the time of its construction, but now is equipped with numerous holy spots, like Gokrana, Vikrana and Swargdwar. It is a highly revered shrine for the natives as well as the tourists.
Kedareswar Temple
A Shiva temple, Kedareswar Temple is located atop the Madanachala hill in Hajo. It is said that Kedareswar is one of the oldest temples in the country. It has a big linga made of stone as the main sanctum. This is known as a svayambhu linga and appears to be an Ardhanariswara form of Lord Shiva. The linga is always kept covered with a big metal bowl.