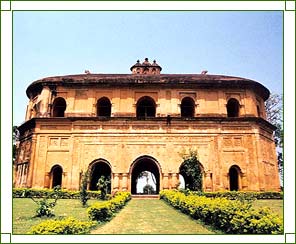 Location:
Joysagar, 4 km to the west of Sibsagar town
Built By:
Ahom King Pramutta Singha
Built In:
1746 AD
Highlights:
Oldest amphitheatre in Asia
Rang Ghar is one of the major attractions of the state of Assam. It is said to be the oldest amphitheatre in the whole of Asia and has often been referred to as the 'Colosseum of the East'. Situated to the northeast of the Tolatol Ghar, in the Joysagar area of the Sibsagar district; is the two storied Rang Ghar, which was the royal venue for witnessing a number of games, like buffalo fight, bull fight etc. This ancient amphitheatre was constructed by the Ahom ruler Swargadeo Pramutta Singha.
Rang Ghar dates back to 1746 AD, when it was basically built for the purpose of amusement and fun. The theatre is a double storied building and on the roof, there is a design of an Ahom royal long boat. It is overall oval in shape, unlike the multi-storied Tolatol Ghar situated just adjacent to it. Every year, during the occasion of Rongali Bihu, Rang Ghar used to be the royal sports pavilion, from which the Ahom kings and nobles witnessed games in the Rupahi Pathar below.
The Rupahi Pathar is a vast field, where various activities like bull fighting and other such traditional games used to be organized for the entertainment of the royalty. The Rang Ghar was even the symbol of the recently concluded 33rd National Games, which was held in February (9th to 18th) 2007, in Guwahati, Assam. In case you are planning to visit Sibsagar district of Assam in the near future, do make sure to pay a visit to the Rang Ghar as well.