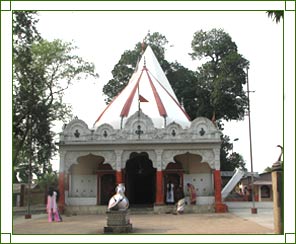 Location:
Northern part of Tezpur
Dedicated To:
Lord Shiva
Major Festival:
Shivratri
Highlights:
Houses one of the largest Shiva lingams in the world
Mahabhairab Temple, located atop a small hill in the northern part of Tezpur, is considered as a major landmark of this ancient city and contributes a lot to the magnetic charm and beauty of the place. It is believed that the original temple was made of stone, constructed by Banasura, the demon king who had his capital at Tezpur. This temple is mainly dedicated to Lord Shiva and has one of the largest Shiva lingams in the world. However, the original temple was destroyed in the 1897 earthquake and the present one was constructed during the early part of the 20th century.
The present structure of the temple was built by Naga Baba (Sri Swayambar Bharati) and was later developed by Sri Mahadeo Bharati and other devotees. The place has now become a very important pilgrimage spot of Assam and attracts thousands of devotees every year. Near the entrance of this ancient temple, the idols of Lord Ganesh and Lord Hanuman stand as "Dwarpaals" and the gateway also bears elaborate embellishment, intrinsically carved out. Remnants of the original temple can still be seen in the numerous huge pillars scattered all around the temple.
In the recent times, many new renovations and reconstructions of Mahabhairab temple have been planned and carried out by the Deputy Commissioner of the Sonitpur District of Assam, with the aid of some large hearted people and generous institutions, like Sonabheel Tea Limited. A wall surrounding the temple is also in the construction process, intended to guard its precincts. Also there is a plan for including guest rooms; shopping arcades and landscaping in the premises, to help develop the place into a convenient pilgrimage centre.
The most important festival observed at Mahabhairab temple is Shivratri, which is celebrated amidst great pomp and glory. Devotees and tourists come here from all parts of not only India, but the whole of the world, to take part in the celebrations and ask blessings from the Lord. Commuting to this place is quite easy. The nearest railhead is provided by the Tezpur railway station and the nearest airport is located at a distance of about 7 km from the center of the city. So, do make sure to visit the temple, on a visit to Tezpur.