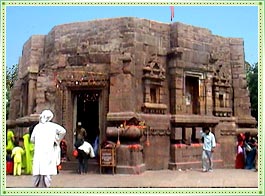 A part of Patna Division, Kaimur is an administrative district lying in the western portion of Bihar. The main headquarters of the district is located at Bhabua. The Kaimur region is basically divided into two parts i.e. the plains and the plateau region, which is also called the Kaimur plateau. The plain area consists of lush and productive alluvial lands that become stony while going to the southern part of it. In the western and the eastern side, the plains are surrounded by the rivers Karmanasha, Durgawati and Kudra.
Being one of the most important districts in Bihar, Kaimur has a rich heritage both in terms of the history of the place and its archeology. Formerly known as Bhabua, it is one of the most colorful regions of Bihar. During the primeval times, the Kaimur Plateau was occupied by the modern times known Bhars, the Cheros and the Savers. Whilst some say that the hilly tracts of Rohtas were occupied by the Kharwars. The Ovaons, have also asserted their control over the region falling in between the Rohtas and Patna.
It was in between 6th B.C. and 5th A.D. that Kaimur was a part of the Magadh Empire ruled by the pre-Mauryans and late Gupta rulers of Magadh. Harshwardhana of Kannauj took over the control of the district, in the 7th century. Kaimur is also known to make immense contribution in the independence movement of India. It was in the year 1972 that Rohtas district was formed out of the old Shahabad district, which was later transformed as the current Kaimur district in 1991.
The major tourist attraction of the Kaimur district is Adhaura, Baijnath, Badap, Chainpur, Chargotia, Mundeshwari Hil, Badki Goria, Gaura Hill, Darauli. From natural beauty of the place to the historic significance, Kaimur gives its visitors a taste of everything. Archaeologically one of the most important regions of Bihar, Kaimur also served as the residence of the Pratihar dynasty and the Mughal dynasty. Temples, forts, hills, forest, waterfalls, the place is sure to allure to the minds and the hearts of the tourist visiting this district.
Places to See in Kaimur
The city of Kaimur has a glorious history and exhibits a true coherence of the Mughal and Hindu dynasties. The historic monuments and ancient temples, that form tourist attractions of the city,