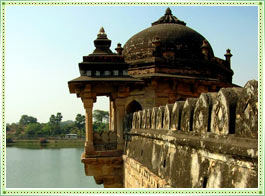 The Tomb of Sher Shah Suri is in Sasaram in Rohtas district of Bihar. The construction work of this tomb was started by Sher Shah himself and completed by his son and successor Islam Shah some 3 months after the death of Sher Shah in 1545 A.D. The chief architect of this structure was Alawal Khan. This beautiful mediaeval structure is made of fine sandstone. Sher Shah Suri's tomb lies in the middle of an excavated lake. This three-storied mausoleum rises to a height of 46 meter, 13 feet higher than that of the Taj Mahal of Agra. The imposing structure is surrounded by all sides with large stone stairways leading to water of the excavated lake.
The upper terrace is enclosed by a tall wall surrounding the tomb. There are four octagonal domed chambers at four corners of this great tomb on the eastern side there is a grand doorway which is the only way to the Tomb. A beautiful causeway linked the tomb with the guardroom which was built only in 1881. The main mausoleum building consists of a very large octagonal chamber surrounded by a wide verandah on all of its sides. The verandah is covered by a series of 24 small domes, each supported on arches and each corner of the verandah is provided with a cupola. The main tomb chamber is supported by beautiful arches and it rises about 22 feet above the verandah surrounding it. It is one of the largest domes in India. Inside the tomb there are stone Jalis of different design to allow air and sunlight into it.
Once the arches, the interior of the dome and the walls were craved with inscription from Quran and decorated with beautiful floral cravings of stone and fitted with glazed tiles of various colours. But as of now there are few traces of such decoration. Besides this the exterior of the tomb was originally glazed and painted with combination of colours like red, blue, gold and white. But as it stands today few traces of colours can be seen in some places. Within the tomb chamber there are 25 graves, including that of Hasan Khan Suri. The grave of Sher Shah is surrounded by 24 of his compatriots. Half-a-kilometer from Sher Shah's tomb lays the tomb of his son Aslam Shah. It is grand but incomplete. Nearby this location also lies Alawal Khan's tomb, the superintendent of these constructions on the outskirts of the town.