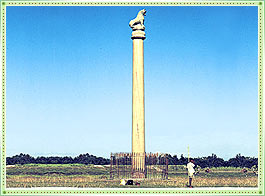 Lauriya Nandangarh is a town located 28 km northwest of Bettiah, the headquarters of West Champaran district of Bihar. Lauriya derived its name from a pillar (Laur) of Mauryan emperor Ashoka, which is located here. Nandangarh is the name of a mound, situated 2 km to the south-west of the Ashoka Pillar. According to many historians, as many as forty pillars were constructed in Lauriya Nandangarh by Ashoka. In the present time, there is only one pillar at this site, which stands in its complete form.
Height of the sandstone-structured Ashoka pillar is about 32 feet. Diameter at the base of the pillar is 35 inches while it is 26 inches at the top. The statue of lion is mounted on a circular abacus at the top of the pillar. The edict of emperor Ashoka is inscribed clearly and beautifully on the pillar. Even after years of its excavation, the Mauryan polish used on Ashoka pillar retains its shine and radiance.
Lauriya Nandangarh is also a location for about 20 archaeological mounds arranged in three rows. The excavation of Nandangarh, an 82-feet high mound, yielded the remains of a huge Stupa, which had a circumference of about 1500 ft near the base. The discovery of this Stupa has brought to light number of stone beads, terracotta figures, punch marked cast coins, which prove that it was constructed during 2nd century AD. It is believed that the Stupa enshrines the ashes of Lord Buddha.