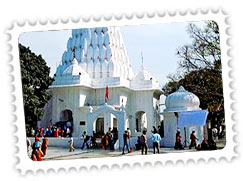 Apart from its famous museums and lush green parks, Chandigarh, the capital city of Punjab and Haryana, is well known for its ancient temples as well. Thousands of pilgrims flock the religious places of the city, during peak seasons. Apart from the devotees, tourists also visit the temples, to catch a glimpse of the architectural beauty. Mansa Devi is one such temple, which is not only visited because of its proximity to the city, but also due to its mesmerizing construction and the 'powerful deity'.
Mansa Devi temple is located in Bilaspur village, which is around three kilometers to the east of Mani Manjra, adjoining Chandigarh. The temple is thronged by hundreds of devotees from all over the country and even tourists from abroad, during Navratri. The temple is dedicated to Goddess Mansa. People believe that the deity is very powerful and fulfills every wish of the devotees.
Until sometime back, the deity in the Mansa Devi temple was worshipped in the form of the holy 'sand', in the formation of 'pindi', which encompasses Devi Saraswati and Devi Lakshmi as well. In the present time, a marble idol of Goddess Mansa is worshipped. The idol becomes even more attractive when it is adorned with sparkling ornaments, during special pujas and festivals. Tourists visit the place just to witness the festivities during special occasion, like Navratri.
Archaeologists and historicists find it interesting to pay a visit to Mansa Devi Temple, when they are touring Chandigarh. This is largely because of the legacy of the temple. Its walls are adorned with beautiful paintings of shrines and by other motifs. The architectural beauty of the temple comes from Shivalik background as well. History reveals that the temple was constructed in the Panchayantana pattern. Hence, it is a must-visit excursion of Chandigarh.