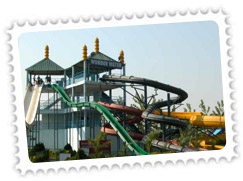 Fun City is a popular amusement park that is located at a distance of around 20 km from Chandigarh. It is sited on the Panchkula-Barwalla Nadha Sahib Gurudwara Highway, near Ramgarh. It includes an amusement park, water park and resort within its bounds and is spread over 43 acres of scenic land. Funcity claims the distinction of being the biggest amusement and water park in the entire northern part of India.
Fun City is an all time favourite of the children, who love to spend the full day at the place. In fact, almost every person, irrespective of his/her age, enjoys spending time here; exploring the thrilling rides and water sports. The hi-tech hydraulic rides are amongst the most striking and thrilling rides of the park. Marvelously planted plants and natural vegetation add to the scenic glory of the park.
The Wonder Water of Fun City is the first and biggest wet park in the region. It has three landing pools, one activity pool, one wave pool and sixteen water slides, of different sizes and shapes. There are a few smaller-size pools as well, consciously made for the children. New features include Aqua dance, lazy river, splash pool, and slides like Typhoon tunnel, White multi lane white slide, Run away raft slide, Red dragon slide, Pendulum slide, etc.
Popular Attractions Fun City
Amusement Park