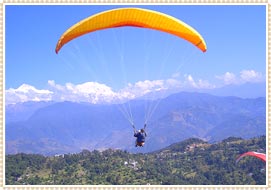 The one word that solely signifies Nepal is "Adventure". For decades, Nepal has caught the fancy of adventurers. The lofty mountain, the ice-capped pine trees, the gurgling rivers and what not; Nepal has all the recipes of adventure. People from all nook and corners of the world have relished these recipes for decades. Among these recipes, Mount Everest is the most favorite delicacy.
Mount Everest, the highest mountain peak in the world, is the proud possession of Nepal. Known locally as Sagarmatha, Mount Everest stands 8,848 meters above the sea level. Mountaineers from all over the world come to Nepal to scale this ultimate challenge. It has been close to 50 years since Mt Everest was first scaled but this peak still attracts the highest number of mountaineers. Apart from the Mount Everest, there are other peaks too that are famous among hikers. Some of these peaks are Nanda Devi, Nanga Parbat and Makalu. There are various agencies that facilitate these expeditions. All of these agencies follow international norms regarding safety and environmental issues.
Trekking, the younger cousin of mountaineering, is also very popular among armatures and novices. The trekking expeditions are organized around lower peaks of Himalayas and high forests. There is no dearth of good agencies when it comes to trekking in Nepal. These expeditions are organized regularly and generally comprise of small groups that are accompanied by competent guides. Apart from these, Nepal also has facilities for modern adventure sports such as Bungee Jumping and Para Gliding. These sports are organized at various mountainous areas of Northern and Northwestern Nepal. Down in the valley, rafting and hot air ballooning is slowly gaining popularity among the tourists. So, you see, Nepal is the last word when it comes to adventure sporting and for that, we give you our word.