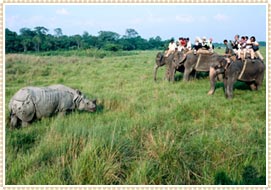 Settled amidst lofty mountains and limitless plain, Nepal has got a rich fauna and flora. According to a conservative estimate, Nepal has as many as 100 different kinds of mammals and at least 750 kinds of birds in totality. Due to its industrial backwardness, Nepal has limited industries. That is why Nepal's rich fauna and flora is not under grave threat as in some of its neighboring countries such as China and India. Nevertheless, rampant poaching and massive deforestations made the government mull the plan for establishing dedicated wildlife reserves.
The idea was pondered upon and was put to action. This led to the birth of Royal Chitwan National Park. The park is located between the Shivaliks and is the most popular wildlife sanctuary in Nepal. It has nearly 50 different varieties of mammals and 450 species of birds. Sal is the most prominent tree of this sanctuary. If you are fed up of regular wildlife sanctuaries them Sagarmath National Park is here for your rescue. Located above 9000 feet, The Sagarmath National Park is the highest wildlife reserve in the world. With its snow pecked peaks and vivid species of Himalayan birds, this park can be safely adjudged the most beautiful location in the entire Nepal.
Rara National Park is another beautiful wildlife reserve. Though the smallest in Nepal, the Rara National Park has been the personal favorite of the Nepalese monarchs for years. The park has a beautiful lake called Lake Rara which supports nearly 2 dozens species of migratory birds including the very famous Arctic Turn. There is another beautiful sanctuary called Makalu Barun National Park. This is particularly famous for its vivid flora. It has as many as 3000 different species of plant with at least 70 of them having medicinal qualities. Apart from these, there are other minor sanctuaries too such as Khaptad and Langtang National Parks. So, welcome to the real Nepal. Just don't forget to bring a good pair of binoculars and a really good camera and we promise, you will leave here with a smile on face and peace in heart.