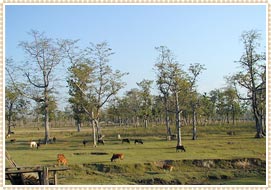 Established in 1973, the Royal Chitwan National Park is the oldest National Park and wildlife reserve in Nepal. the Royal Chitwan National Park is located in the Tarai lowlands of South-Central Nepal. UNESCO designated the park as a World Heritage Site in the year 1984. The park covers an area of around 1000 square kilometers and supports a fragile ecosystem. It contains the Churiya hills, ox-bow lakes and flood plains of Rapti, Reu, and Narayani Rivers in its circumference.
As far as the flora is concerned, nearly 70% of the Royal Chitwan National Park vegetation comprises Sal forest. The remaining vegetation types include grassland (20%) and Pines (5%). The grasslands have a diverse composition comprising more than 50 species. The Saccharin, popularly known as elephant grass, can reach as high as 8 meters in height. The park also supports a very vivid and distinct fauna. According to a conservative estimate by the UNESCO, the park has at least 43 species of mammals, over 450 species of birds, and more than 45 species of amphibians and reptiles. Among animals, one-horned Rhinoceros, Tiger, and Crocodile are given special attention. It is estimated that the current population of the endangered one-horned Rhino is around 400. Apart from that, the park also has a sizeable population of Gaur, Wild Elephant, four-horned Antelope, Striped Hyena, Pangolin, Gangetic Dolphin, Monitor Lizard, Python, Chital, Hog, Deer, Barking Deer, Sloth Deer, Common Leopard, Palm Civet and Rhesus Monkeys. A few of the common birds seen are Peafowl, Red Jungle Fowl, and different species of egrets, Herons, Kingfishers, Flycatchers and Woodpeckers.
Earlier, the Chitwan Valley was well known for big game hunting and until 1950 was exclusively managed as a hunting reserve for the Ranas and their guests. In 1973, His late Majesty King Mahendra approved, in principle, the creation of Royal Chitwan National Park. One last thing, Just don't forget to bring a good pair of binoculars and a really good wide-lens SLR camera.