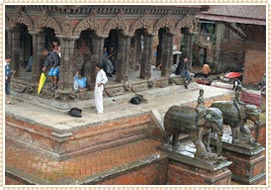 Nepal has glorious past and priceless heritage to boast about. The country has a special tryst with history. From the birth of Buddha to the reign of Ranas, Nepal has seen it all. Nepal's tryst with the history has left many witnesses. These witnesses have been protected in the museums and galleries across Nepal. They are being protected with great efforts and that protection comes with a fancy price tag. Indeed you will appreciate the works done, in the extreme financial constraint, by the Archeological Survey of Nepal and Ministry of Culture. Things that have been excavated and collected from the length and breadth of Nepal have been kept on display at various museums and art galleries in Nepal.
The torchbearer among the lot is The National Museum of Nepal. Situated at Katmandu, this museum has a vivid collection of artworks and coins. There are separate galleries for paintings, murals and coins. The museum has many Buddhist artworks as well. The most interesting section in the museum is the one dedicated to weapons and weaponry. Apart from the National Museum, the museum at Patan is a must visit too. The museum has collection of art works and statue that numbers more than 900. Among others, this museum stores artworks from its Licchhavis era. It contains both Hindu and Buddhist artworks. The National Bronze Art Museum is unique in itself. This museum only contains bronze statues. They range from Licchhavis era till the rule of Ranas. The display gallery has been artistically decorated to comply the mood.
The National Art Gallery in Kathmandu is a must visit site too. This gallery is housed in one of the oldest palaces in Kathmandu valley. The gallery contains various day-to-day items that were used by the various dynasties that ruled Nepal. Apart from that it has an archive gallery too that contains various documents and official papers used by the previous monarchs. Apart from these there are other smaller museums too such as Tribhuwan museum that is solely dedicated to the monarchs. Then there is Woodwork Museum that has no exhibit as such as the building itself is an exhibit because of its unique design and motifs. So, if you are an art freak then there is more than enough to see and do in Nepal.